Our network
Description
Colissimo is able to handle all your deliveries across mainland France thanks to its reliable, efficient network.

Colissimo relies of a solid network of partners to handle your deliveries across the rest of the world.
Media
Image
Collapse
Our International network
Content
Our extensive, reliable and efficient network guarantees you an optimal service helping your business to be successful. Whatever delivery option your customers choose, we are present throughout the whole country for all your parcel shipments.
Industrial innovation increasing competitiveness
To enable you to be increasingly efficient, we create the best conditions for processing your shipments. To achieve this, we have set up a network of 18 parcel platforms.
Based in France, they cover the whole of the country and are equipped with the most efficient technologies for sorting and ensuring the security of the parcels. Sorted according to their destination, they are shipped to the consignee on the same evening as they are received.
Média
Image
Média
Image
Delivery and pick up: it's never been so easy with Colissimo!
Our 70,000 postal workers deliver your parcels to private homes in rural and outer-urban areas in the shortest time possible. And, to make people's lives even easier, Colissimo has developed mailbox sending and returns: an innovative and unique service in the sector.
You can access a stable network of 8,000 post offices covering 100% of the country and allowing all your customers to pick up their parcels whenever they want, if they are not at home to receive it.
Your deliveries to pick up points made by the sector leader
Delivery to pick up points is a service that is increasingly appreciated by e-customers. Practical and economical, this has become a key element in finalising purchases. In order to respond to this long-term trend, you can use our Pick Up network, which is a subsidiary of the La Poste Group and a leader in the sector: pick up points exist less than 15 minutes away from the homes of 95% of the French population.
Média
Image

The Pick Up network comprises:
15 000 convenience store, open 6 days a week and for long hours and. 400 deposits in France
Pickup Stations : facilities located in high footfall areas such as train stations, city centres, bus/metro/tram stations, shopping centres etc...
Pickup Stores : shops owned by the company and located in busy areas such as major train stations and also offering products and services.
Content
OUR STRENGTHS
Benefit from our expertise and our dedicated export department for all parcel shipments up to 30kg.
Média
Image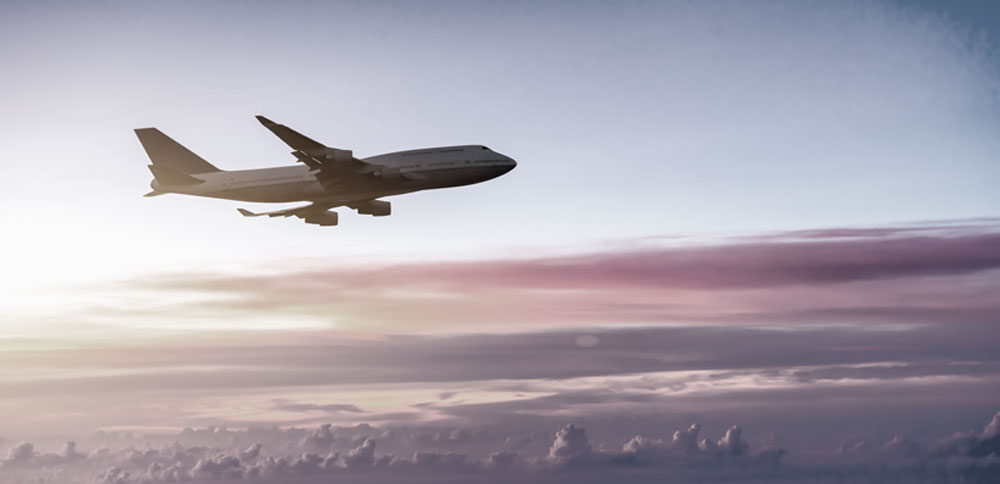 Colissimo is the rapid international delivery specialist with over 14 million parcels sent throughout the world each year.
An international and French Overseas Territories offer: simple and comprehensive offer enabling you to access over 235 destinations and 12 French Overseas Territories destinations.
A delivery time commitment for 40 destinations.
(Australia, Austria, Belgium, Bulgaria, Canada, China, Croatia, Cyprus, Czech Republic, Denmark, Estonia, Finland, Germany, Greece, Hungary, Hong Kong, Ireland, Italy, Island, Latvia, Lithuania, Luxembourg, Japan, Malta, Norway, Netherlands, Poland, Portugal, Roumania, South Korea, Singapore, Slovakia, Slovenia, Spain, Sweden, Switzerland, Thailand, United Kingdom, Vietnam)
A comprehensive network with over 9,000 post offices, 15 Colissimo platforms 6 of which are dedicated to export.
A network of highly effective partnerships with partners specialising in last mile delivery services (DPD, BPost, Deutsche Post, Swiss Post, etc.)
OUR NETWORK
EUROPEAN DESTINATIONS SERVICES BY ROAD
Thanks to our highly effective European network, we can make deliveries in the best possible time ensuring customer satisfaction.
Média
Image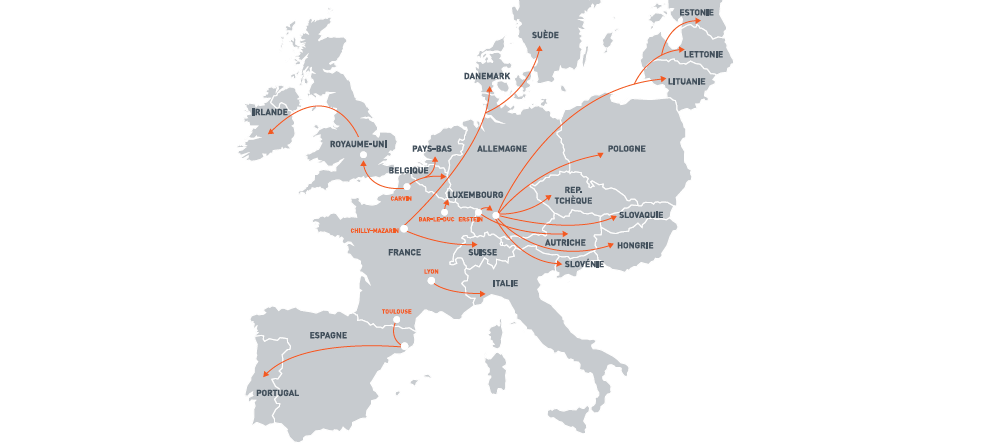 EUROPEAN DESTINATIONS SERVICES BY AIR
We deliver parcels all over the world thanks to our network of global partners.
Média
Image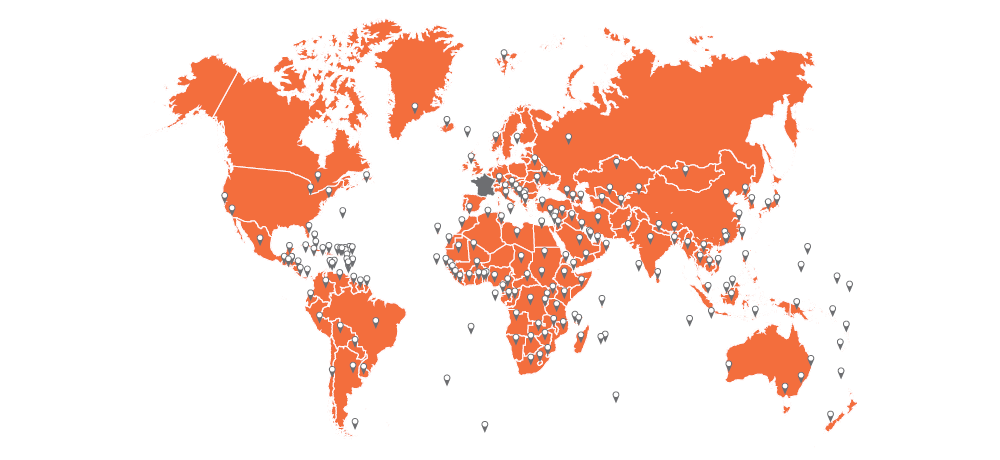 COMPREHENSIVE TRACKING IN OVER 109 DESTINATIONS
Track you parcel from drop off to delivery in the following destinations:
| | |
| --- | --- |
| A | Albania,  Algeria, Anguilla, Antigua and Barbuda, Argentina, Australia, Austria, Azerbaijan |
| B | Bahreïn, Belgium, Belize, Bermuda, Belarus, Bosnie, Brazil, British Virgin Islands, Brunei, Bulgaria, Burkina Faso |
| C | Cambodia, Cameroon, Canada, Canary Islands, Chile, China, Cyprus, Côte d'Ivoire, Croatia, Czech Republic |
| D | Denmark, Dutch Guiana, Dutch Antille |
| E | Estonia |
| F | Fiji Islands, Finland |
| G | Georgia, Germany, Gibraltar, Greece, Guam, Guernesey |
| H | Hong Kong, Hungary |
| I | India, Indonesia, Iran, Ireland, Island, Israel, Italy |
| J | Japan, Jersey |
| L | Laos, Latvia, Lebanon, Liechtenstein, Lithuania, Luxembourg |
| M | Macau, Macedonia, Madagascar, Malaysia, Maldives, Malta, Mauritius, Moldova, Monaco, Mongolia, Montenegro, Morocco |
| N | Netherlands, New Zealand, Nigeria, Norway, North Korea |
| P | Poland, Porto Rico, Portugal |
| R | Romania, Russia |
| S | Saint- Barthelemy, Sainte-Martin, Saint Lucia,  Saudi Arabia, Seychelles, Serbia, Singapore, Slovakia, Slovenia, Sweden, South Africa, South Korea, Spain, Svalbard & Jan Mayen Islands, Switzerland |
| T | Taiwan, Thailand, Togo, Turkey |
| U | United Arab Emirates, United Kingdom, United States of America, Ukraine, Uruguay, US Virgin Islands |
| V | Vanuatu, Vietnam |
| Y | Yemen |
This list is for information purposes only and is subject to change.
Tracking within Metropolitan France is available for other destinations.